Some testimonials from our customers
Please find below a small selection of the many testimonials and messages received from customers over the past years.
All the testimonials are genuine and verifiable on request. Where possible the testimonials are in date order (latest at the top) but this is not always the case.
Don't hesitate to contact us for further information.
Just received them. They are lovely.
Linda & Michael
Alabama, USA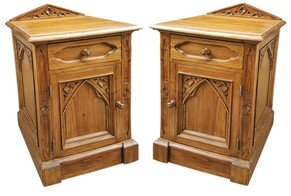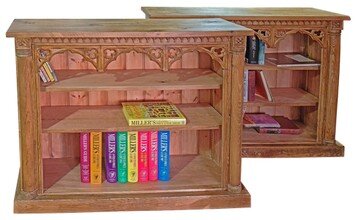 Dear Dave,
I hope that you and Angela got back safely.
I just wanted to say that I am very happy indeed with the bookcases.
They are beautifully designed and finely made.
Kind regards
Peter,, Kensington, London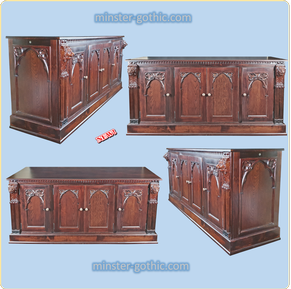 Furniture arrived in perfect condition.

 

Dave

The furniture is now in my family room. Thanks again.

Steve

Menifee, California, USA
The pieces are here.
The guys from the van were great.
So thanks for everything, great job, the woodwork is stunning!!!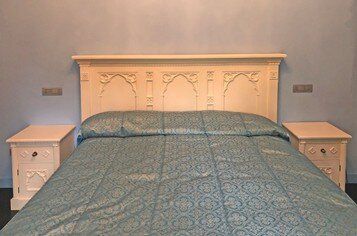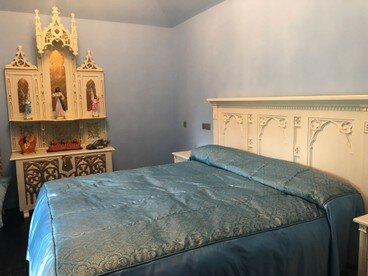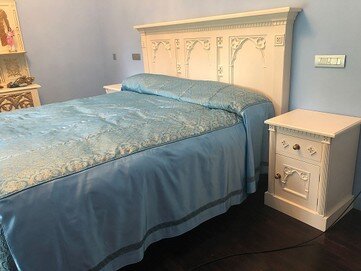 I hope you are both well.
I finally got the headboard installed with my new waterbed last night. ........
I have LED candles on top of the headboard, (with real wax drippings to make them look real).
As well as some stuffed animals to discourage my cats from jumping up there.
......
There are still a few things to do in the room, but the bed looks really really good, and I couldn't be more pleased.
Well worth the expense of having it made and shipped here.
I hope you like, and can use, the pictures.
Best regards,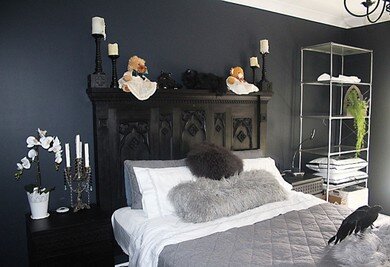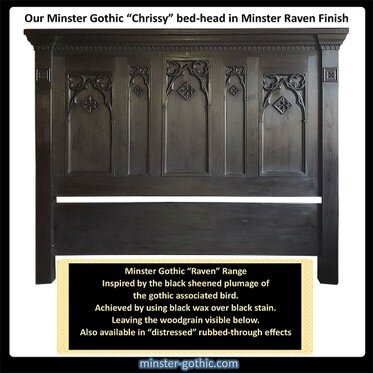 I recived my beautiful kitchen sink unit two days ago in perfect shape. I just love it!
Shipping was fast as it only took a week
😃
I would like to thank you again for your top top level of service. I highly appreciate it!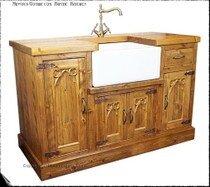 "Dave and the whole Minster Gothic team are amazing.
Very high quality products made and delivered with top quality customer service.
Dave was really good and keeping in touch and emailing over pictures throughout the process so I could see how it was all coming along.
Very attentive and just a great local provider that gives you the kind of furniture you just can't get from the obvious chain stores.
Would absolutely recommend!"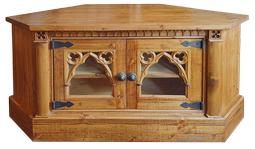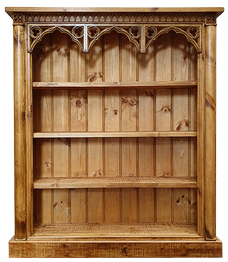 It's so rare, but so pleasurable to get an actual handwritten testimonial!
Plus a printed photograph as opposed to a digital one!
Our customer Edward was extremely pleased with his outdoor Stone-Effect Mirror.
I'm sure you'll all agree that it looks great on his ivy-clad wall.
Plus! Look at Edward's stationery!
Just to say my order arrived this morning - I love it! Thank you so much for such prompt and personal service.
I have a suspicion you may be hearing from me again for another (perhaps smaller) one.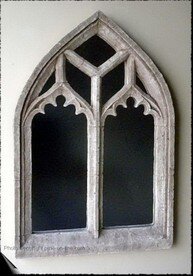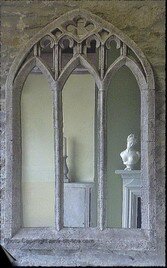 I received my beautiful gothic Mirror this morning which arrived in excellent condition.
Your service was better that first class as is the quality of the product.

The shipping company that you used to ship my Mirror were excellent.
They were first class and arrived on the time they said they would, and the mirror and the packaging were all in perfect order on. arrival to me.
The Mirror was very well packed, so once I get it up on the wall I will send you a photo
Once again Dave and your team thank you so much for arranging the mirror and it's safe delivery.
Gerry. Dublin, Ireland.

"Well my headboard arrived this morning at 8am.
Dave it's absolutely gorgeous, I love it, the very first Minster Raven finish! (The only one on the planet....at least for now).
At the moment it's in the hallway, and I can't stop looking at it.
And thanks to Angela and to Jason, your VERY talented cabinet-maker!"
Chrissy,, Sydney, Australia
March 2019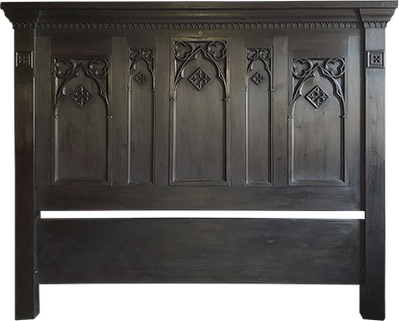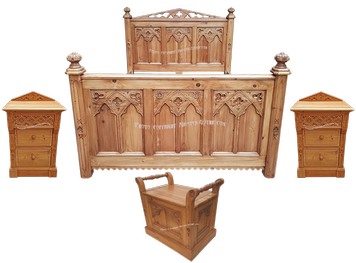 Hello, I just wanted to take the opportunity to thank you for the most amazing Furniture purchased from yourselves.
It was a pleasure to meet you both, and a smooth transaction and great customer satisfaction.
The Furniture was so much better in possession than in the photographs.
I have searched numerous sites for Gothic Furniture in the past and was unsure whether to purchase.
I am so glad I purchased from Minster Gothic they are honest hard working people with the best quality furniture available, and will be purchasing more in the future.
I wish them all the best for the future.
Kind Regards Debbie :-)
Slimbridge, Gloucestershire
Just to let you know we received the mirror today, it's brilliant!
Many thanks,
Mel and Karen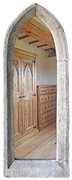 Hi Dave,
I just received my order.
Everything was just as I expected.
Best wishes,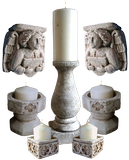 "Hi, Just wanted to let you know. All the items have been received in excellent condition
Cheers, Kit.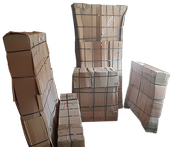 Incredible delivery speed, I'm grateful! It arrived without any issues whatsoever, and looks fantastic.
Many thanks, and for the great communication on your part!
Robert
Mississauga, CANADA



Hello David,

I just wanted to let you know how much I like the Gothic window which I received yesterday. It is absolutely ideal for my needs. I will send you a picture of the finished artwork when it is done. If successful I will be ordering more from you in the future.
Kind regards
Stan

Hi Dave,

Once again amazed with your excellent work.
All the wonderful products I have purchased from you have found a special place
to decorate my Medieval Restaurant.
Thanking you so much!
Regards,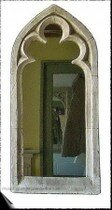 Absolutely FABULOUS! the team are so accommodating and everything is done to the last detail.
Service is 1st Class and products are out of this world and even better when you get to see them!
My house is now PERFECT with my wardrobes, jumper cupboards, draws and bedside cabinets!
Charlie & Steve +

Georgie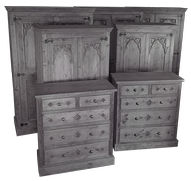 We love the mirrors, many thanks for all your time and help.
Very best wishes,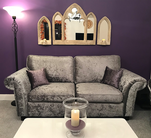 Hi Dave,The furniture arrived on Friday .
It's 10-car-pile-up gorgeous . It's the coolest furniture I've ever seen.
Christmas has come early!
How many layers of bubble wrap did you use?
I felt like Howard Carter trying to open King Tut's sarcophagus.
It worked, though. The furniture arrived in great condition.
Thank you so much for all the trouble you took to send it. I'm thrilled to bits.

Warmest thanks,

Stacei.
Lexington, Kentucky ,USA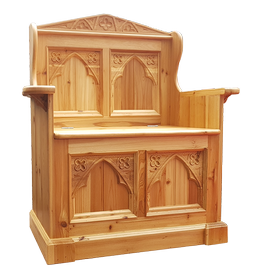 It's arrived.
Nice job; many thanks
Sir Thomas.
Home Counties
Just to let you know the package arrived safely -

thank you for packaging it so well,
really pleased with items.
Thank you
Bridgewater


Hi Dave,
Hi, i have received the plant stand. Its amazing!! Thank you so much
Sophia, Pelsall West Midlands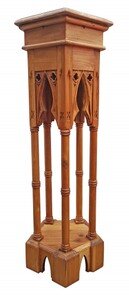 I've now unwrapped it and I absolutely love it! Thank you so much, it fits in the space absolutely perfectly.
I'm so pleased with it, thank you so much. A furniture piece to keep forever!
Thank you also for the extra wax as I will give my other piece a good polish.
I'm so glad I stumbled across you online and would highly recommend you and your personal service. I really feel like you went the extra mile.
Thanks again.
Kind Regards
Amanda
Liverpool.

Just arrived home to find my wardrobe and chest of drawers had arrived in my absence -
we absolutely love it,
literally perfect for our room and the craftsmanship is exceptional! thank-you so much!!
Amy-Louise & Matthew, Leeds


Many thanks Dave & Angela for my Gothic seat.

It is beautifully made and looks great in place.

Thank you for your prompt & friendly service.

Michael, Berkshire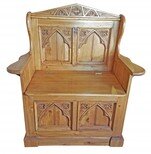 Hi David,
The fire surround arrived today - I've now installed it and am super happy with it.
I live in a little gothic revival former church lodge so it goes beautifully.
Attached a picture of it in situ.
Thanks again. Deborah,
Brecon


.

Dave
- Thank you so much for delivering the bed on Sunday. I am so pleased with it, it has far exceeded my expectations and looks absolutely perfect in the room. The workmanship and finish are outstanding and the craftsmanship both in the carpentry, joinery and finish first class. Please pass on my appreciation to the rest of your team and I will definately not hesitate in obtaining more pieces of furniture from you in the future. Look forward to seeing you in the future.

Just received my DVD bookcase on Sunday brought down personally By Dave and his wife.
It was so nice to meet them in person.
The DVD bookcase is a work of true craftsmanship. The design was adapted to what I asked for through a conversation over the phone with Dave, and what he came up with was a stunning piece of work which fits absolutely perfectly where its final resting place is at the bottom of the stairs in the hallway.
This piece of furniture is an heirloom which will be passed down to future generations of my family.
Jackie. Kent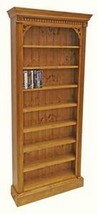 I HAVE JUST UNWRAPPED
THE FURNITURE
THANK YOU SO MUCH FOR A FIRST CLASS SERVICE.
-
the considerate wrapping had protected the furniture
and it arrived in perfect condition.

The delivery was reliable, as
was your communication to me.
More importantly, the furniture is
stunning and your web-site does not do the pieces justice!
Thank you again and we look forward to ordering more items from you in the near future.
We will, without hesitation, recommend you, your furniture and the great customer service.


Hi David
Just wanted to say thanks for a great service!
The cabinets are a really good match for the other furniture I have .
Regards
Martin,
Dartford ,Kent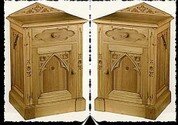 Dave received my mirror today and just love love love it!!!
Thank u so much for all your efforts and great customer service!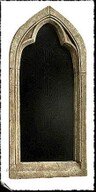 Just to say thank you so much for the furniture and how it's all turned out, after a lot of precise measurement , and scratching heads and throwing designs back wards and forwards , we have come up with the finished product ...
Here it is , excellent quality very well made and should last a life time , we are a 100% happy with it all I highly recommend you to all my friends and family , thank you so much Dave



Cabinet is safely delivered in perfect order and we are delighted.
The delivery driver rang ahead to give us estimated time of arrival. Very polite, he was on his own, but agreed to get the package up our awkward, crooked stairs - quite a task, and your very thorough packaging did it's job brilliantly.
The cabinet is all we expected and more. It has such a lovely, mellow presence, and will be cherished.
We appreciate your efforts in sending it so many miles.
Thank-you and Best Wishes
Arrived safely, assembled and in place. Looks great.
Wow, my search is finally over and it's actually here!
Thanks so much again, a pleasure doing business with you.
Just to let you know the angel has just arrived and is lovely.
Please can I order another one?

Thanks

Jackie. Northumbria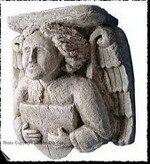 Just a note of thanks for supplying and delivering our Large Break-front Bookcase #1616 in May 2014 (apologies for not contacting you earlier). We are extremely happy with the book case and it compliments our gothic table and chairs!
It was a pleasure to meet you and your wife, when you came to our home and delivered/erected the stunning book case.
Thanks again and no doubt will be buying more furniture from you in the future!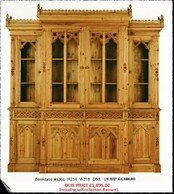 Dear Dave,
Thanks so much for your help in sourcing the item of furniture I've been searching for. After several months of calling and emailing other, larger firms without any success, I was not just losing hope in finding the elusive item. I had also started to doubt that customer service existed anymore. Within less time than it took others just to respond to my initial query, your small, family business had replied, set to work and succeeded where they had failed. I am thrilled to be awaiting delivery and very thankful to you for that. Thanks again for showing that people can still take pride in their work and can endeavour to see things through to completion.
With best wishes for your business in the future and many thanks,
YOU ARE A GENUINE, CAST IRON DREAM BOAT. Thank you so, so much for the fireplace which arrived, so carefully wrapped and expertly delivered by Ray and Mrs Ray this evening.
IT IS ABSOLUTELY WHAT I THOUGHT IT WOULD BE AND EXACTLY RIGHT FOR THE ROOM IT IS GOING INTO. YOU WAIT UNTIL YOU SEE THE PHOTOGRAPHS.
THANK YOU, THANK YOU, THANK YOU, THANK YOU, THANK YOU, THANK YOU for all your hard work and time taken in the acid bath.
PS I do hope this email conveys just how thrilled I am????
Thank you so much for making our mirror, it is truly amazing!
Love the Monks bench also.
Your products are of the highest quality.
The service we received from Dave & Angela was 1st class - even delivered in person all the way to Cornwall.
We will purchase from you again - I better get saving - so many fab products.
Sharon & Adrian, Cornwall.
Hi Dave,
The stool arrived safely and is absolutely beautiful!
Thank you for your prompt service.
"We bought a variety of of furniture from your Gothic Range of hand carved furniture several years ago. We haven't been disappointed - the designs are wonderful, it is very substantial and doesn't fall apart like a lot of modern furniture and looks good in both modern and old houses. If you want something different go for Gothic!"
Carolle Easton, Glastonbury.
Dear Dave,

The chairs have arrived this morning.

The quality is excellent !

We are hightly satisfied with your work.

Thank you for your support and follow-up !

Kind regards,

Irina,

Got the bookcase in place and unwrapped it. All present and correct, and very well made - nice job.
Added on Facebook : "Really pleased with the Gothic Bookcase. Well made and already looks like its been there years."
"After buying a Mock Tudor House my husband was determined to furnish it with gothic style furniture. However this was not as easy a task as it may seem. After scouring the Internet and visiting a vast variety of suppliers we either found the price of goods vas way in excess of what we wanted to pay and/or the quality of the furniture was not to my husbands standards. So when we came across Gothic Pine aka Smith and Smith Designs we liked what we saw both in design and price of the furniture. However being ever cautious my husband only ordered a plant stand to gage the quality, and well, the rest is history. As over a period of about 18 months we furnished our bedroom, dining room, hall, and downstairs bathroom with the most impressive furniture and all delivered by hand by David Smith himself. He took every care and assembled massive gothic wardrobes, dressers and a 10 seater dining room table to name just a few items. These items were all in place by 2009 and still look the part and will do I'm sure long after we pass them on to our 11 year old son who say's they are his inheritance when he puts us in the retiring home!!!

I cannot thank Dave and his company enough for making our house a beautiful home. Oh and we still had money in the bank for a cruise in the med! Thanks Dave you're a star!"

Ann and David Richards, Stourbridge, West Midlands.
Hi, Candle block arrived this morning. I am very pleased. Thank you again for helping me out with this..
"Hi Dave: Just want you to know that I received the plant stand about a half an hour ago. It's beautiful. Thanks again..."
Bob Gondek. USA.
Dear Dave,
This is just a quick message to let you know that the gothic mirrors I ordered from you reached me safely and that my boyfriend and I love them! They've far exceeded our expectations, not just in terms of quality, but in every aspect. We're very happy :-) Thank you once again for all your assistance"
Yes, Gothic Settle arrived in great time and perfect condition. Its looks great in our home. Look forward to purchasing some more items from you in the near future. Regards"

Hey guys well what can I say, the BED is breathtaking and I really appreciate all the effort you put into getting us it. It was great meeting in person and it was a really good day. I have been sleeping brilliantly since we had the bed it really is very comfy indeed...... customer 4 life FLY and KAT..xxx
Just to say many thanks for the safe delivery of the fire surround and hearth. I am absolutely delighted with them and they look fantastic! Simon had it all fitted by the time I got home that evening.
Thanks again! Best wishes"
"My chairs were delivered today, despite very snowy weather conditions, and they are every bit as wonderful as the photo illustrated - I am very pleased with my purchase - once again many thanks for what has been a speedy and very satisfactory transaction"
Joan K
Hi Dave,
Yes the chairs arrived yesterday. We are delighted with them.
Thank your wife for her careful packaging.
Thank you for everything and I wish you every success with your business in the future. Regards ,
Just to say that I love the carver chairs - they are really super & thanks for packaging them up so well.
Much appreciated & many thanks
Just to confirm safe receipt of the chair which arrived in my absence yesterday and was causing great interest in the office!
Many thanks for your help, the chair looks great - and hopefully even better when I get it home..
Thank you for bringing all the furniture yesterday
– the wardrobe went together quite easily (once I'd worked out the back and front issues) and it all looks very good together.
I was impressed with the packing (both yours and the factory's) and hope that you had a good journey home without too many hold-ups.